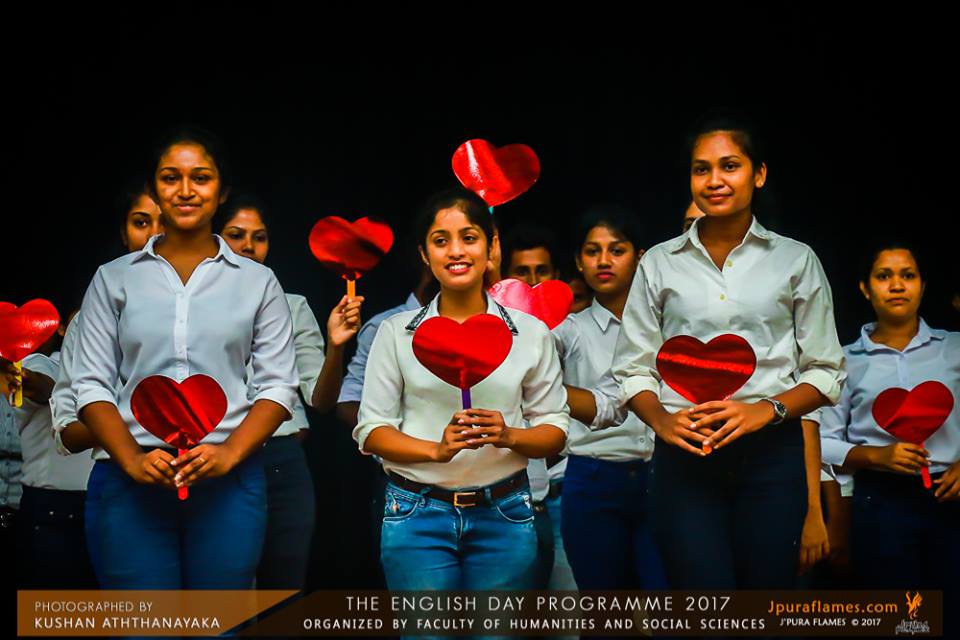 The Department of English Language Teaching (DELT) of the University of Sri Jayewardenepura is committed to improve the English language proficiency of undergraduates in the Faculties of Humanities and Social Sciences, Applied Sciences and Engineering and Technology of the university.
From 2013, a new course was introduced to the Faculty of Humanities and Social Sciences which gave an unprecedented amount of time for input in English for first year undergraduates – 150 hours per semester. This course is a credit bearing course. First year undergraduates have compulsory English classes from 8 am -10 am every weekday. In this course, apart from the teaching of reading, writing, speaking and listening, undergraduates take part in drama workshops, choral singing, poetry recitation, news watching, meditation workshops, and a library session on a regular basis. Watching films and audio-books sessions are accommodated during the off class periods, where undergraduates will learn English spontaneously. The idea is not only to make improvements in the proficiency level of the student, but also to make English more appealing to them.
It is our belief that the knowledge of English and overall personality development should be targeted at the same time, so that the student who finally leaves us will be a confident, charismatic personality not afraid to use this second language even if he or she hasn't attained perfection in it yet. After their one year with us the undergraduates are encouraged to follow an optional certificate course which is designed to reach the UTEL (University Test of English Language) level 5.
Books & Course Material:

"English in Use" and "Pathways in English" are books complied by the DELT and distributed free of charge for each student. The books are in different volumes and deal with the skills of reading, writing, speaking and listening. "Certificate Course in English" is a text book compiled and edited by permanent academics of the DELT under the super- vision of the EFL – University, Hyderabad, India.

Internal Tests and the UTEL Benchmarks
The DELT evaluation criteria follow the UTEL (University Test of English Lan- guage) benchmarks: The first year course is designed to make undergraduates achieve UTEL Level 4 and the Certificate Course is designed to make undergradu- ates achieve UTEL Level 5.